Ergonomics Assessment and Training
Suncoast Safety Council has discontinued our Occupational Safety Department as of June 30, 2018.

This change does not affect any other departments of Suncoast Safety Council. The DUI Program, Driver Education & Training, and Traffic School are unaffected.

Thank you for allowing Suncoast Safety Council to help keep your employees and workplaces safe.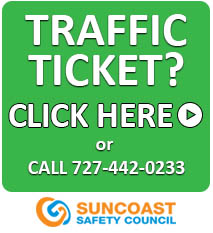 Suncoast Safety Tips
Live safely!
Take care of yourself. Regular exercise makes you less injury prone. And donít forget sleep Ė when youíre well-rested, you can better avoid everyday hazards, both at home and at work. Remember: Staying healthy is one of the best ways to stay safe!