Suncoast Safety Council: Over Forty Years of Service
Since 1968, Suncoast Safety Council has been guided by its mission to support healthier, safer and more sustainable communities. Today, the organization serves as a comprehensive resource for safety information and safety education for all aspects of your daily lives on the road, at work, at home and at play.

From Driving Lessons and Ticket Classes to CPR Classes, Forklift Certifications, OSHA Training and more, Suncoast Safety Council serves as a valuable resource for all your personal and professional safety needs. And with our non-profit status, Suncoast Safety Council is able to provide the highest quality safety solutions at affordable prices to help you live safer and more productive lives.



---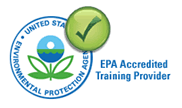 We Offer EPA Lead RRP Certification Classes!
Suncoast Safety Council is now an EPA Accredited Training Provider. We provide both initial and refresher Lead Certification training that can qualify you for CEU's. Learn more!


---